I could not even believe the traffic on my blog last week when I linked with "Inspire Me: Healthy". I had over 300 views on
the post
that day (
now 500+ and counting
) and 11 comments, which was insane but awesome. Seeing so much encouragement from readers about my journey to finish a half marathon was great, and reinforced my reasons to hold myself accountable via my blog. The support I get along the way is an amazing boost!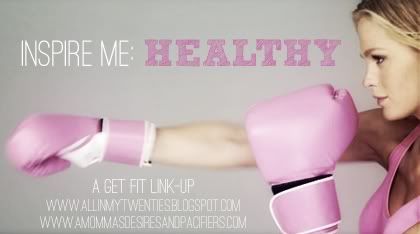 So I know the whole point of me doing this link up until I really start training is to tell my fitness story. This week was going to be the first chapter starting with high school and life before college. But I went out of town last weekend and with orientation and students back on campus this week at work life has been crazy. So I'll delay that post just a week.
However I am so proud of myself for this week I've had so far! I ate a bit too much this weekend on mini-vacay so I got right back in line on Monday after feeling kind of gross. Workouts so far this week:
Monday: 20 minutes of intervals on the elliptical and then another 20 of intervals on the treadmill
Tuesday: Bodypump, 20 minutes on the elliptical and a 10:45 mile
Wednesday: Saw Train last night and instead had a mini Papa Johns pizza and two beers...whoops
Today: Bodypump, ran two miles in 21:14 and walked one mile
Besides last night I've been eating pretty decent as well. At a training with catered lunch on Tuesday I even resisted a beautiful piece of carrot cake with gobs of cream cheese icing. I settled for a Dove dark chocolate once I got back to my office.
I'm feeling great this week and am planning to go to a free yoga session Saturday morning at the Virginia Museum of Fine Arts. Here's to hoping all of my hard work isn't unraveled this weekend! And that I actually get you a real post next week...