Last week I saw some blogs I follow link with
Inspire Me: Healthy
a fitness link up by
Don't Quote the Raven
and
All in My Twenties
. I've started doing some more fun and mindless link ups because they make for an easy post, and I love that scouring Pinterest can turn into a
blog post
for me, but I really liked the idea of one with some weight to it. No pun intended.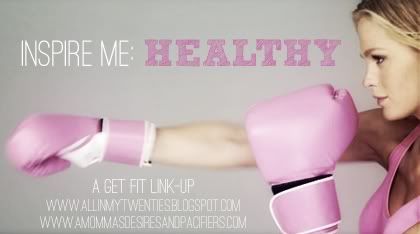 When I
signed up for a half-marathon
a few weeks ago, one thing I noted was that I would use my blog to chronicle my journey and really to also just hold me accountable to training and getting my butt in gear for the race. Using this link up I can hopefully share my training victories and triumphs as well as general health and fitness information I encounter.
My real training will not start until the end of September, though I'm using this time in limbo to keep up my cardio endurance and put together a training plan. So I decided that I should start my story at the very beginning, going back in time to write about my journey with fitness where it began right after high school. I gave a short glimpse of this story
a few months ago
, but chapter one will come next week. I do however want to note a few things up front.
In no way am I any type of health professional. Any knowledge that I share is something I've gained from reading books/blogs and doing health and wellness research. I'll admit that I've definitely followed some unhealthy diets and trends and in no way are my past health habits a picture of perfection. But it's what I was told, what I listened to, and what I did.
Over the past two years I've become much more knowledgeable on the subject especially after
giving up meat
and doing massive amounts of research on vegetarian diets and sneaking more protein into your daily meals. I was flabbergasted when I saw a nutritionist at USC in May to check out my typical diet/exercise plan and see if I was eating enough of the right kinds of foods, and she really didn't have much advice to give me. Though I was looking for some type of golden nutrition tips and suggestions and was almost let down to know I was on the right track, I quickly was excited that for the first time in my life I am on the right track!
At the end of the day I just want to treat my body right. From experience I know I feel best when I exercise regularly and eat well. I'm trying to feel my best and be my best, and my body definitely deserves the best. I also have a massive sweet tooth so it makes me feel better when I do indulge...
So if you care to, follow me along on the ups and downs of my fitness days past and as I work towards conquering my first (
and hopefully not last!
) half-marathon. It's not going to be pretty but I promise there will be some laughs...and probably some sweaty post-run pictures of me to make fun of!