It's been a while since I've engaged in some blog linkups and reading
Mal's
Sunday Social post this morning gave me the inspiration to join along. One thing I love about linkups is it makes me think about things that I normally wouldn't give thought to, and of course meeting other bloggers out there is always a plus!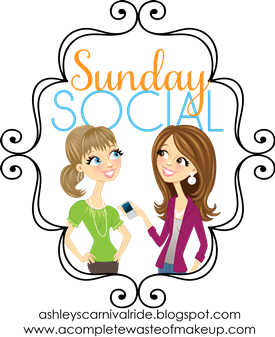 This week's Sunday Social is centered around "5 Things". I love making lists and 5 is typically a great number for me to talk about favorite things because I'm indecisive so it gives me a chance to pick more than one thing!
5 Songs You'll Listen to For the Rest of Your Life
2. 1979 by The Smashing Pumpkins: I have no clue when I first hear this song but I'm mildly obsessed with it and it's always on my running list
3. Home by Phillip Phillips:
I scream everytime this comes on and then crank up the volume! I also still get goose bumps when I hear it because it makes me think of
the Fab 5 winning the gold
for America last summer...
4. Hey Soul Sister by Train: they're a favorite hands down and this song can never grow old!
5. Hey Ho by The Lumineers: I probably listen to this once a day and always gives me a big smile
5 Things On Your Bucket List
I like to refer to this as my "Life List" which you can view the entire thing on
this page
, but here's a select five I'd like to accomplish...
1. Run a half marathon
2. See the ball drop in Time Square on New Years Eve
3. Take a cross country road trip
4. Ride in a hot air balloon
5. Go to the summer Olympics to see gymnastics, swimming & diving in person
5 Celebs You'd Love to Hang Out With For the Day
2. Bethenney Frankel
3. Jillian Michaels: and yes I would love to have her yell at me while I work out...
4. Barack Obama
5. Jennifer Lawrence: I think we're kindred spirits and she'd make me laugh until drink comes out of my nose
5 Things You Always Carry In Your Purse
1. Chapstick, preferably Burts Bees!
2. My Vera Bradley wallet in Bali Gold
3. Hand lotion
4. Hand sanitizer
5. A koozie--a lady can never be found without a koozie to keep her drink cold and hand dry!
5 Books You Want to Read
1. The Girl Who Kicked the Hornet's Nest by Steig Larsson (to finally finish the series!)
2. Divergent by Veronica Roth
3. Where We Belong by Emily Giffin
4. The Defining Decade: Why Your Twenties Matter & How to Make the Most Out of Them Now by Meg Jay
5. Happy Accidents by Jane Lynch
Last 5 Pictures From My Phone
1. This morning's kid inspired breakfast of eggs in a basket & cinnamon apples!
2. Funfetti cupcakes I made for Mr. Charming's volleyball team. We made an appearance at their team sleepover last night to share some goodies and spend time with them. So much sugar!
3. Some friends shared the wonderful store of
Garden Ridge
with me yesterday and I was dying to purchase this. It's what I'd love to have in my kitchen one day and encompass all of these bright colors into my appliances and dishes!
2. Another great Garden Ridge sign--I may try and make one of my own!
5. Mr. Charming & one of our friends testing out comfy chairs at Big Lots after a dinner date
Link up and share your 5 things too, have a great Sunday and savor the rest of the weekend!